Emotional Intelligence
""When awareness is brought to an emotion, power is brought to your life."

Tara Meyer Robson

Are you amazed by other people's ability to experience feelings, but not get derailed by their emotions?
Do you long for close relationships, but despite your best intentions, they seem difficult to maintain?
Can your emotional state change many times during the day?
When we grow up in households that ignored, squelched or discouraged feelings, not only does it give us the message that we are alone, we also don't learn emotional intelligence.
Also, people who grew up in emotional, physical, or sexually abusive homes often were never taught emotional regulation or saw good role models for healthy relationships.
Some signs that you need to work on your emotional intelligence, include:
Getting stressed easily. If you don't regulate your emotions well, you're twice as likely to experience anxiety, depression, substance abuse, and thoughts of suicide.
Difficulty asserting yourself. Lack of emotional intelligence skills often turns into difficulty handling conflict.
Holding grudges. Holding on to a grudge is your body's stress response to a perceived danger and going into a fight/flight response. Learning how to let go of a grudge helps you feel better and improves your health and relationships.
Not letting go of mistakes. Keeping some distance from your mistakes, while learning from them is a sign of emotional intelligence. Not being able to do this makes people more anxious.
Blaming other people for how they make you feel. Emotions are internal. Learning to take responsibility for your emotions and learning to develop a positive relationship with your emotions is key to your emotional intelligence, otherwise you can be left being ruled by anger, depression, or anxiety.
Given my own personal experience and training, I have developed an expertise in working with people who have trouble regulating their emotions. This ability to learn from your feelings, but not let them rule your life is integral to positive self-regard and relationships. Without being able to manage emotions, it is difficult to feel good about yourself, have close relationships, and be effective at work. Also, people who need to improve their emotional regulation skills, often suffer with depression and anxiety.
Using a combination of practical skills and in-depth work, I help people, in individual and couple therapy, learn how to access what can be called their Wise Mind, Self Energy, Adult Self, Grounded Self, or whatever feels true to you. It's the intersection between the emotional mind and the rational mind.
These skills help you help your nervous system get out of fight/flight and into a relaxed state. For many people with trauma, they have never experienced relaxation. Once you can intentionally calm your mind and body, then we can do more in-depth work to help you build a stronger and positive relationship with yourself. This works helps build new pathways in the brain which will make responding to your surrounding with emotional intelligence easier and easier. In so doing, you can build more of the life you've always wanted.
Beth Levine, LCSW
"Knowing yourself is the beginning of all wisdom."
Aristotle
About Beth Levine, LCSW
Introduction
Hi!  Thanks for taking the time to find out more about me.
I am a Licensed Clinical Social Worker, having earned a master's degree in Social Work from the National Catholic School of Social Service, Catholic University.  I have about 20 years of experience working with adults in individual and couple settings.
Ever since I was young, I thought about being a therapist.  Maybe it was when I saw Ordinary People.  I was envious of the therapist, played by Judd Hirsch, who had the opportunity to develop a deep and meaningful connection with Conrad, played by Timothy Hutton, and helped him go from a place of despair to a place of realizing his life force.  Wow!  What could be better than that?  Helping someone tap into their strengths and heal? Making the world a better place is a driving force for me.
Internal Family Systems (IFS) and Emotionally Focused Therapy (EFT) are the foundational models for my work.  After taking a training with Bessel van der Kolk, an expert in studying and treating trauma, I began to take trainings in models and techniques that are supported by research for their effectiveness for treating depression, anxiety, and trauma.
I find that having different techniques to choose from is useful because I don't think that there is one technique or treatment method that works for everyone.  I can work with my clients to see what works best in our individual counseling or couple counseling.  In addition to IFS and EFT, the techniques I draw from include emotional freedom techniques, somatic experiencing, Mindfulness-Based Mind Fitness, expressive therapies, and movement.
People ask me what my style is like.  I find it hard to describe, but I'll do my best.  I am collaborative.  I am interactive.  I like to bring in humor when appropriate. (Nothing like bathing the brain and body in serotonin.)  I point out patterns.  I ask questions.  I reflect what I am seeing.  I use the relationship to promote healing. I can be pragmatic and solution focused.  I can offer behavioral changes. I work to promote curiosity.  I draw from different modalities and life experience.
I believe in therapy.  I have struggled with depression, anxiety, and relationships. Individual therapy has helped me live more authentically, trust myself to handle life's challenges, and have healthy relationships.  Therapy can be hard, but it's worth it.
If you think we would be a good fit, the next step is to call or email me so we can schedule a free 20-minute phone consultation.  If that goes well, then I recommend that we have an initial session. Having a session is probably the best way to tell if you think I would be a good fit.
I am thankful to the many people who have shared their lives with me and taught me about people's courage and capacity to heal and change.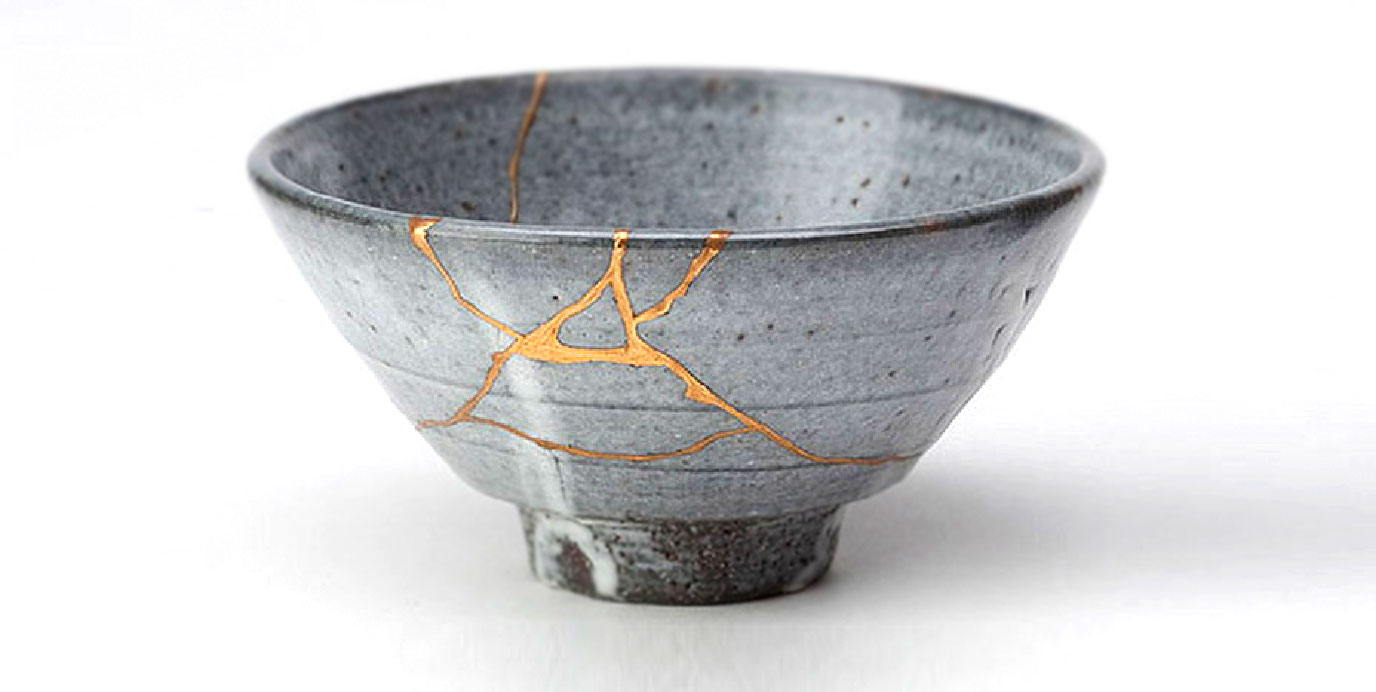 Beth's Philosophy
It is hard to narrow down my philosophy of individual therapy or couple counseling to one option, but I want to share with you the following way of looking at ourselves, our relationships, and life that I, and others, find helpful.
The 400+ year old Japanese art of kintsugi (golden repair) or kintsukuroi (golden joinery) honors the pottery's unique history by emphasizing, not hiding, any breaks or cracks.
This philosophy embraces flaws and imperfections and acknowledges that "scars" are a part of the unique design.
Kintsugi offers us an important metaphor:  In the process of healing ourselves or our relationships, we can create something more unique, beautiful, and resilient.
Embracing this philosophy, can help us deal with depression, despair, anxiety, stress, relationship difficulties, loneliness, and trauma, among other life's challenges.
Trainings/Certificates
Certificates
Advanced Trauma Treatment – Level I (The Institute for Advanced Psychotherapy)
Level I Certification in Internal Family Systems (IFS Institute)
Emotional Freedom Techniques – Professional Skills I (Association for Comprehensive Energy Psychology)
Emotionally Focused Couple Therapy (International Centre for Excellence in Emotionally Focused Therapy)
Emotionally Focused Couple Therapy Supervisor – for therapists earning their Certification (International Centre for Excellence in Emotionally Focused Therapy)
Highlighted Trainings
Somatic Experiencing
Bessel van der Kolk, The Body Keeps the Score
Mindfulness-Based Mind Fitness
Self-Compassion
Education
LCSW-C, National Catholic University, School of Social Work
MBA, University of Rochester, The Simon Business School
Professional Presentations/Activities
September 2017.  Published article, Enhancing Therapeutic Effectiveness When Working with Vegan Clients, News & Views, The Greater Washington Society for Clinical Social Work.
June 2016. Published article, Food for Thought, New & Views, The Greater Washington Society for Clinical Social Work.
Interviewed by Elisabeth Brown for Freedom2Do (http://www.freedom2do.com/its-okay-to-get-help/).
September 2011 through April 2012. Assisted EFT trainer, Rebecca Jorgensen, with Core Skills Advanced Training (4 weekend-long trainings) to EFT colleagues.
September 2010 through April 2011. Assisted EFT trainer, Rebecca Jorgensen, with Core Skills Advanced Training (4 weekend-long trainings) to EFT colleagues.
September 2010 through June 2011. Led Emotionally Focused Couple Therapy (EFT) supervision group for EFT colleagues based on the training manual, Becoming an Emotionally Focused Couple Therapist: The Workbook.  Met once a month.
March 2009. Through The Greater Washington Society of Clinical Social Work, I presented  Introduction to Emotionally Focused Couple Therapy.
October 2008. Through The Greater Washington Society of Clinical Social Work, I presented Attachment Theory, Love and Neurobiology.  In this course, I talked about eight ways in which Attachment Theory informs couple work, and the research that helps us understand the neurobiology of when couples have a secure attachment and when they are in distress.
January 2008. As part of the above training, I presented on Attachment Theory and Work with Couples. My presentation was titled: Eight Ways That Attachment Theory Informs Emotionally Focused Couple Therapy (EFT).
January 2008.  Attachment Theory:  Basic Concepts and Clinical Applications in Work with Individuals, Couples and Children. I coordinated the training with Mauricio Cortina, MD, Director, Attachment and Human Development Center.
Professional Memberships
I am a member of:
Greater Washington Society of Clinical Social Work
International Centre for Excellence in Emotionally Focused Therapy
National Association of Social Workers
I'm always happy to hear from people.
If you have any questions, need more information, or would like to make an appointment, you can call me at 301-279-7779, email me at BethLCounseling@aol.com, or use the form below.
I see clients using a video-chat platform called VSee. It is free to download and easy to use. Please ask me about that option, if you are interested.
Licensed Clinical Social Worker • Over 15 years of experience • Certified Emotionally Focused Couple Therapist and Supervisor • Member of The Greater Washington Society of Clinical Social Work • Member of the International Centre for Excellence in Emotionally Focused Therapy • Member of Clinical Social Work Association • Member of National Association of Social Workers
Serving All of Maryland through teletherapy, including Rockville, Bethesda, Chevy Chase, Kensington, Gaithersburg, Germantown, Potomac, Silver Spring
Phone: 301-279-7779
BethLCounseling@aol.com
Hours by appointment only
On Being: Lessons I Learn From Animals